Even though the open air cinema – its official name – started in Berlin, the idea really caught on in post war Greece; with more than 600 in Athens alone, out of which around 90 of them are still up and running all over Greece, according to a 2015 count.
For the less fortunate who never had the pleasure of entering one, imagine this: you have a big yard-like open space, with some trees; only the entrance of the place has a roof over it, with a small ticket booth and another next to it with the film projector and equipment; and a small canteen filled with cold beers and refreshments, chips and popcorn and all the lovely treats that best suit a good movie. The floor of the main area is usually covered with fine gravel, rows of old garden style chairs, and a few scattered café style round tables. The movie normally starts at about 21:00P.M, when the sun goes down; and as darkness falls, the day's heat retreats and jasmine and honeysuckle plants, usually covering the surrounding walls, start spreading a distinct yet pleasurable aroma. The smell from the food and beer or ouzo from the spectator's tables completes the smell of the place. The movie starts, and you have the unique experience of enjoying a movie under the deep blue/black sky and the stars twinkling away.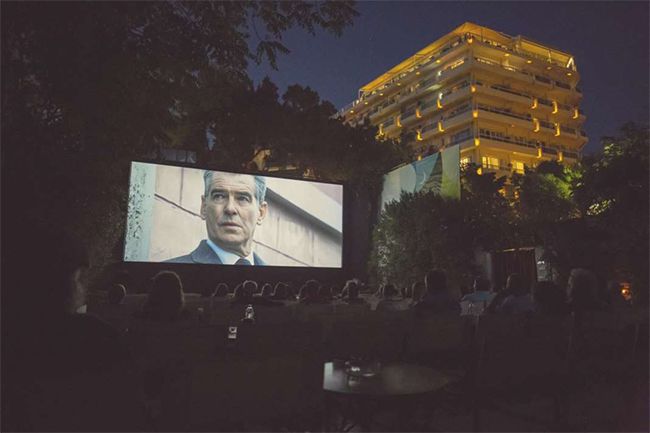 This is what makes up the Greek open air summer cinema. Between apartment buildings or gardens; in an island's capital, next to the sea or under the Acropolis, it is a typical Greek memory. They were created out of necessity. In a time when the country, fresh out of the destruction of WWII, needed cheap and easy entertainment. A time when the buildings where never enough to accommodate all the people getting into Athens to restart their lives. So, cheap makeshift cinemas were set up in any open space during summer; and every neighborhood had at least one. A time before air conditioning and television; when summer nights only needed a cold beer and a movie to become perfect.
Growing up in the 80's, summer cinemas were a cheap night out and at the same time one of the easiest ways for a kid to become an avid cinephile. Trying to compete and cut costs, so that they could offer cheaper tickets, many summer cinemas were screening old movies, cinema classics, many European films and lots of cult movies – picture it like a spectrum covering anything from "The Wild One", "East of Eden" to "Down by Law" and "The Wings of Desire" – that people went to see again and again, as their favorite movies, as kind of a romantic summer ritual.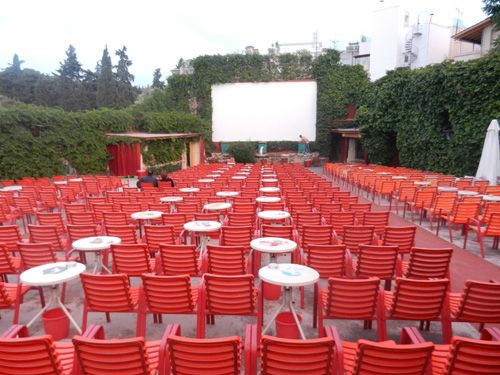 In the meantime, most of them got demolished to give way to apartment buildings. Fortunately, today's generation, and not only, found new interest in them and did all they can to bring it back into our everyday lives. So now we have summer cinemas screening old and new movies; and even big international news agencies are talking about them, discovering that it has yet again become part of our vital and vibrant summer entertainment.
One of the most renown summer cinemas in Greece and also worldwide, is the Thision cinema.
BBC Culture put it among the 10 most beautiful cinemas in the world http://www.bbc.com/culture/story/20131127-the-10-most-beautiful-cinemas,
along with CNN Travel http://edition.cnn.com/travel/article/coolest-movie-theaters-world/index.html, and Time travel put it in its list of "10 things you have to do in Athens".
FYI – Movies played in the Greek cinemas are almost all in their original language, with some exceptions being children's movies.
Cover Image credit: Cine Psirri