Manon Leroyer
Let's discover together the symbolism behind these elite men dressed in folded skirts and tasseled shoes.
History of the Evzones
Their official history dates back to 1867 when four infantry regiments were created to guard the country's borders. Since then their roles have evolved, the Presidential Guard is now an elite ceremonial unit that performs several functions. First of all, it guards the Tomb of the Unknown Soldier and the Presidential Palace in Syntagma Square. Day and night, the Evzones stand proudly in a pair and completely still in front of the Parliament. Then, they raise the Greek flag at the Acropolis just after sunrise every Sunday and lower it at sunset. Finally, it's they who provide the guard of honor to the President of the Republic and to the foreign heads of state.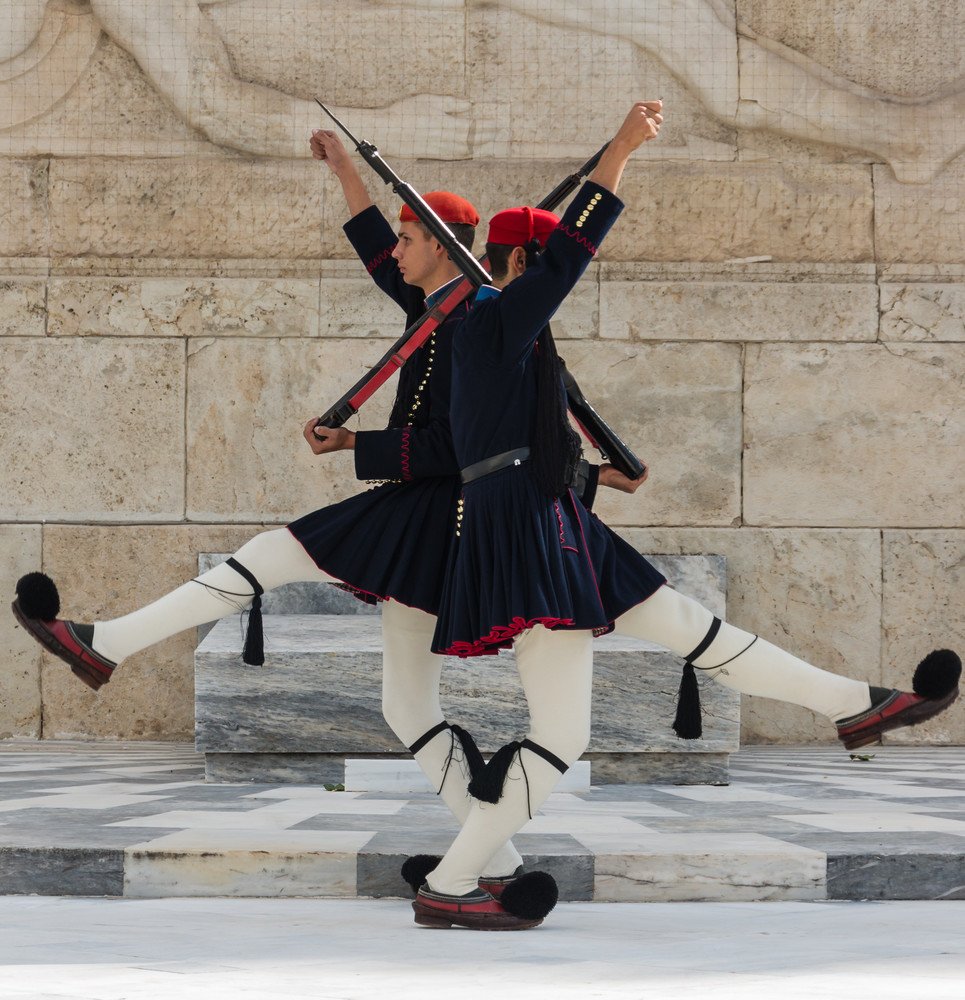 Their courage during the Balkan wars and the two world wars earned them an almost divine reputation. They are rigorously selected according to their size, their excellent physical condition and their morality. For the Greek people, the Evzones are symbols of bravery and courage.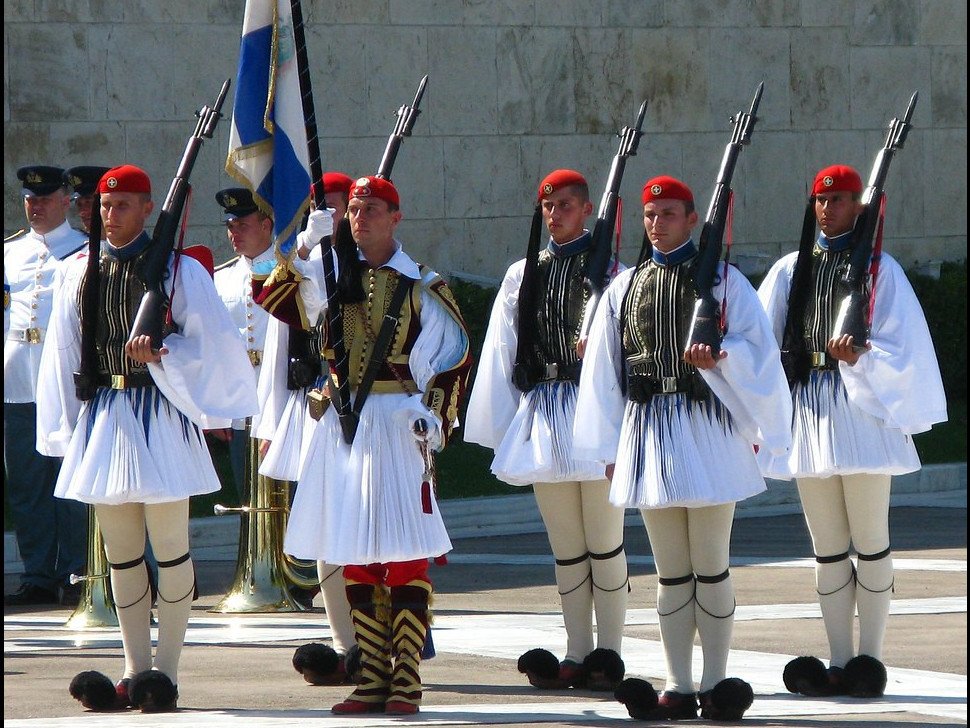 The clothing of the Evzones
The uniforms are important as they are inspired by traditional Greek costumes. A red felt beret dresses the head of the guards, a white shirt with very flared sleeves and a vest dress the upper body of the guards. Finally, white woolen tights, a pleated skirt and black socks make up the bottom of the uniform. The 400 pleats that compose their skirts have a strong meaning, they symbolize the number of years of Ottoman occupation in Greece.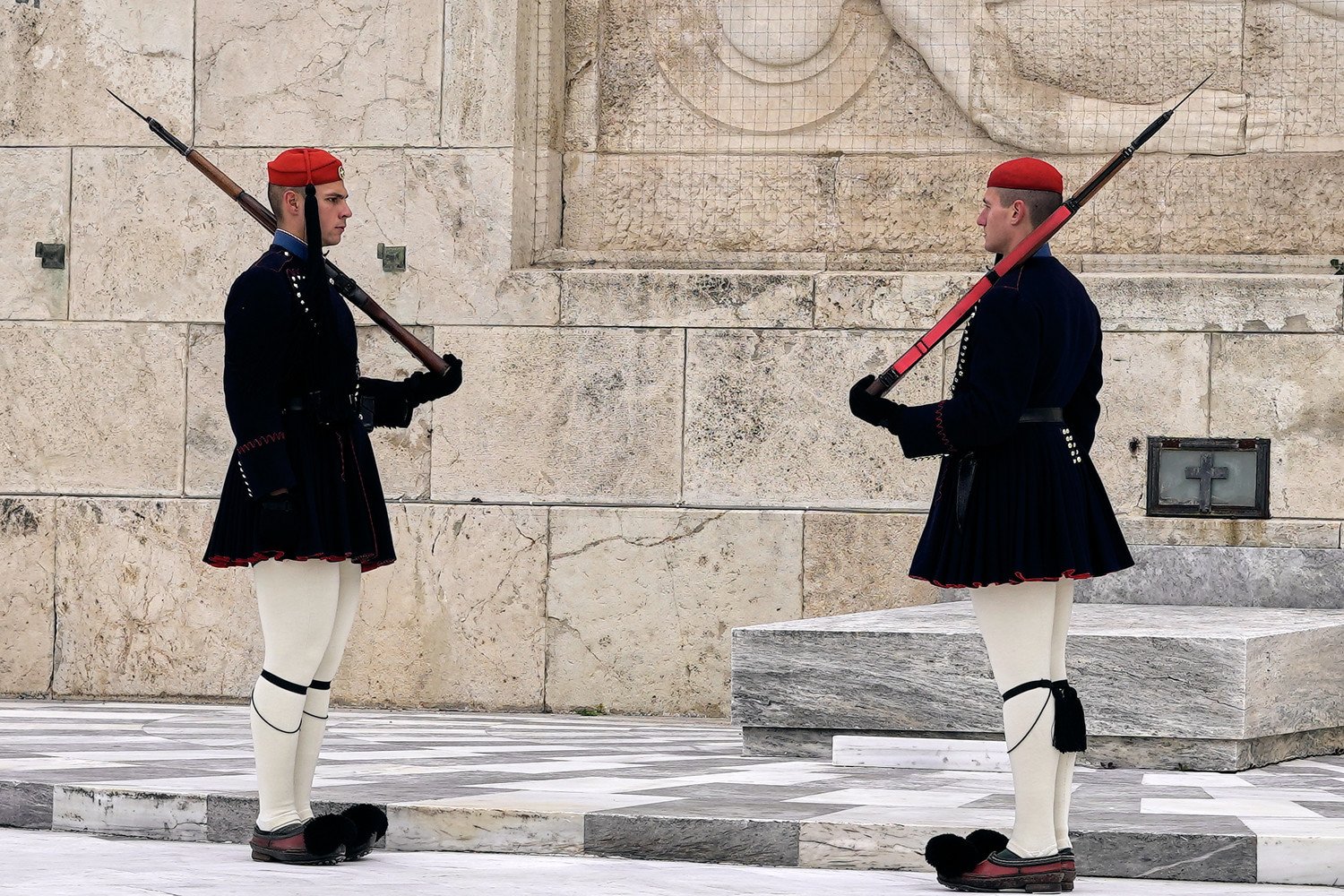 Where and when to see the changing of the guard?
The changing of the guard takes place every day, every one hour, it gives rise to a scenic ceremony, skilfully orchestrated. You will just need to arrive a few minutes early on Syntagma Square to appreciate the spectacle.
Every Sunday at 11 am, a much more solemn Changing of the Guard takes place in Athens. The Evzones are much more numerous because the whole garrison moves. Accompanied by a military band, they march from their barracks, just behind the Parliament building, along Vasilis Sofias Avenue to the tomb of the unknown soldier.
Do not miss the changing of the guard which is definitely one of the things to see if you visit the Greek capital!