You see its story is wrapped in baking paper and smells of steaming pork or chicken with the overflowing aromas of tzatziki. You can perhaps enhance this image with a musical background from Zorbas the Greek.
This is one of the most characteristic delicacies of Greek gastronomy. Although in the same or similar form it exists in many countries of the world, the souvlaki has been identified with the cuisine of our country, not only in the consciousness of our own but also abroad.
In this article, we will go through the history of Souvlaki. You'll be surprised to find out that it goes way back to Ancient Greece. Keep reading to find out more!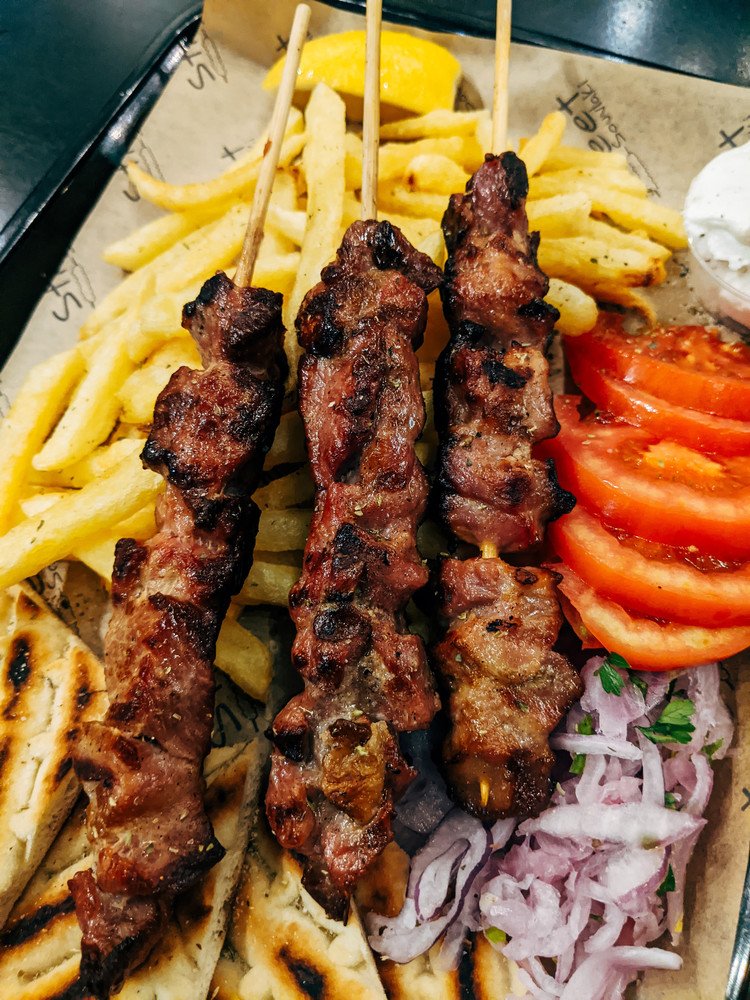 Souvlaki in Ancient Greece
Its roots go back to antiquity. The first mention is found in the Iliad where we meet Achilles cooking pieces of meat on the embers.
The souvlaki is first introduced in Ancient Greece, as it was known as "obelisk" (from the word obelos = spit). It appears, among others, in the works of Aristophanes, Xenophon, Aristotle. A simple recipe from small pieces of meat, nailed lengthwise to a skewer with a slice of bread, not far from its current form, especially when we order it as a "kalamaki" with a little bread. The reference of the ancient Greek biologist and gastronomist, Athenaeus in his work 'Deipnosophistae', where Hegesippus in his 'Opsartytiko' (i.e. to the cooking guide he wrote), mentions a dish called "kandavlos" which contained pieces grilled, cheese, pita bread and dill and served with broth. Apart from this, similar references are found in Homer's Iliad.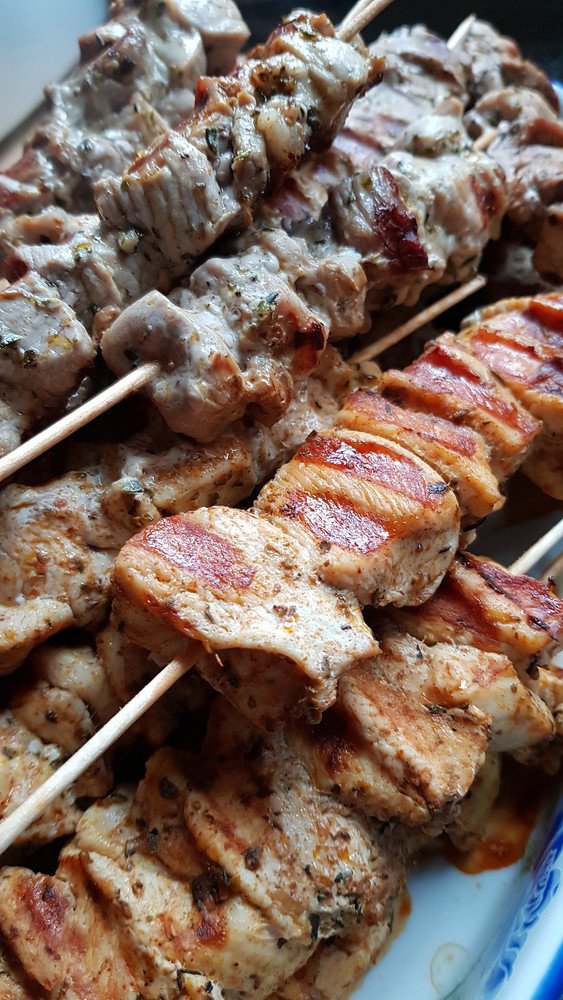 Souvlaki in Roman Archives
In Roman archives of the 1st c. A.D. there is a reference to a skewer of entrails, while much later in Istanbul small vendors were selling on the streets something like our well-known skewer with pita bread.
The skewer from entrails refers to Roman texts of the 1st century A.D. but also later in Istanbul, where after the conquest, street vendors sold in the streets in addition to fruits or vegetables, and skewers with pita bread.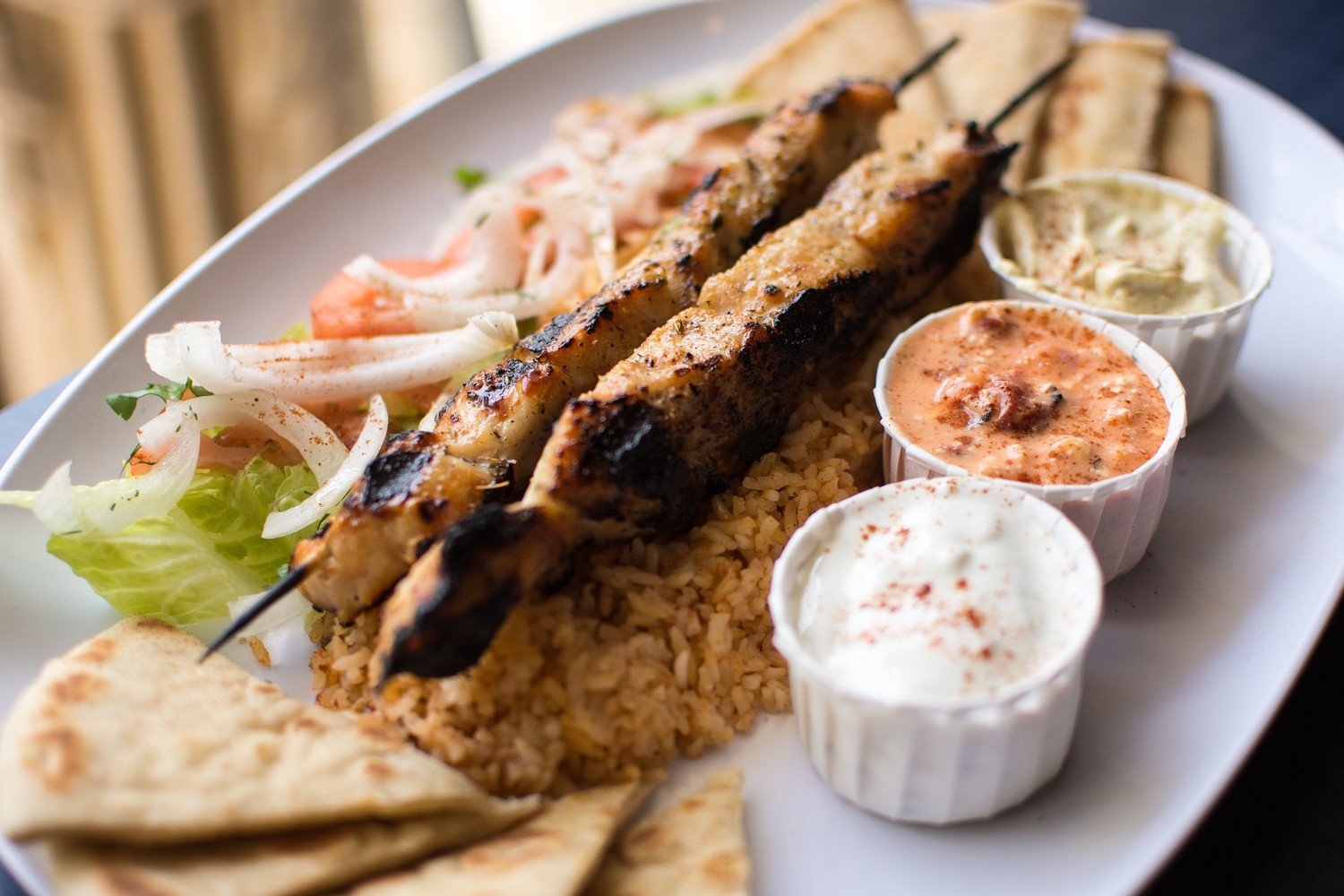 When did Souvlaki arrive in Greece?
The glorious history of the Greek souvlaki begins in 1924, when Isaac Meraklidis comes from Egypt to Athens and opens the first souvlaki restaurant, called "Aigyptiakon", in Nikaia, which lives and reigns to this day, passing from generation to generation to his grandchildren, Misak and Azniv. Immediately after, another " Aigyptiakon" opens at 9 Vrachias Street (we now know it as Mitropoleos), on the corner of Monastiraki Square - this shop now belongs to Spyros Bairaktaris, who uses it as a serving room to expand his shop.
Isaac was an Armenian from Adana, where kebab is a religion. Chased by the Turks, he moved to Egypt as a political refugee and ended up in Athens, changing his real name, Misak Anispikian, and embarking on a new career as a Meraklidis, making kebabs from sheep, pita bread and tomatoes, all grilled.
Livadia will introduce the souvlaki on a 'kalamaki' with bread later, in the '50s, while the first minced meat kebab will appear in Athens in 1962 until the junta imposes the pork (on souvlaki, gyros, etc.) changing by law the taste of the Greek delicacy of the street.
The second half of the 20th century, especially in the 1950s and 1970s, saw the largest waves of immigration to the United States, Australia, and Germany. Some immigrants took the recipe for the delicious dish to the other side of the world, opening shops that still exist today.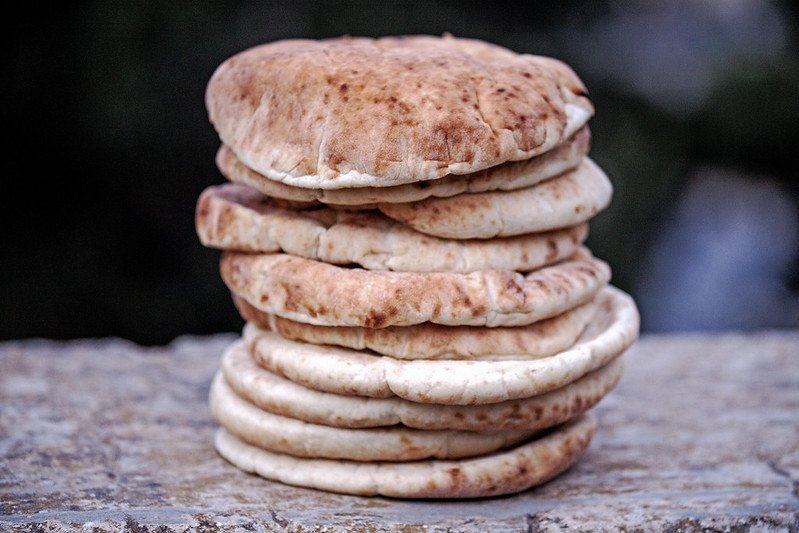 Pita Bread is All Greek
The pita on the souvlaki is an exclusively Greek recipe. If its preparation was influenced by some, it is not from the Orientals but the Italian conquerors. During the Italian occupation, the Italians demanded and showed the Greek bakers to make them the Italian cake. It was an easy solution to feed the army with long-lasting baked goods.
Greek bakers influenced by their experience in a type of Asia Minor bread that looked like a pie, instead of a cake, will produce the most delicious pita bread we know today, and it was probably success in the Italian occupation army.
The souvlaki pita as a commercial enterprise was started in 1952 by the brothers Antonis and Kyriakos Papadopoulos (from Apsallo of Edessa) in a wood oven and with a production of 200 to 300 pita bread per hour. The Papadopoulos Brothers sublet an oven, until three in the morning, to which they go from early in the night to knead, shape, open the dough and bake the pita bread in the wood oven. Then, they pack the pita bread in cardboard boxes and caskets and distribute them on foot, and by tricycle. For the longest distances, they have to use the bus or the tram, as the car is a kind of luxury, let alone the trucks for trade. The production reaches 200-300 pita bread per hour and the sale price is 4-5 dimes.
Today the pita bread is baked in an electric oven on a rolling pin, while the "pressing" of the pita is no longer done by hand but with a special machine. The production of souvlaki pita amounts to at least 250,000 per day while exports to the world are systematically made only by Greek companies.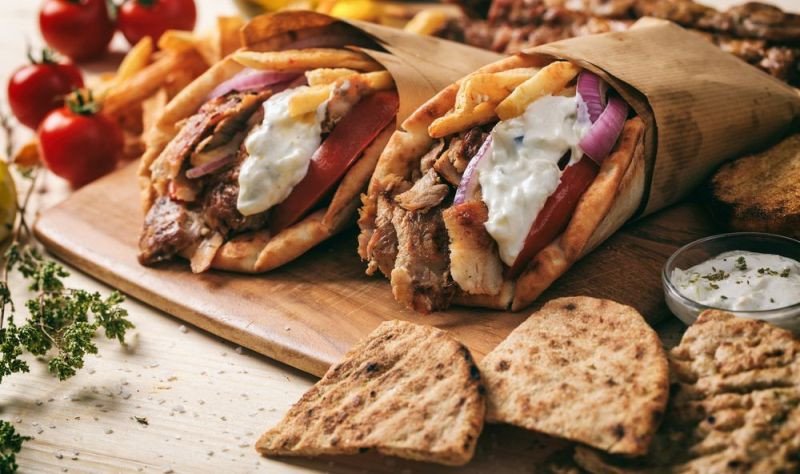 How do we Eat Souvlaki Today?
The souvlaki consists of pieces of roasted pork passed on a small wooden skewer made of reeds (the reason that in southern Greece it is ordered "kalamaki" and the cause of another "dispute" with northern Greece), which is usually served with a slice of bread or a pie cut into four.
We also find it from chicken (which, if wrapped in bacon, turns it into "chicken bacon"), from beef, from a combination of lamb and beef (kebab), from a burger, and even from a sausage.
The most filling version is wrapped in a baked pie, which very often hosts round, i.e., chopped meat accompanied by tomato, onion, tzatziki and fries.
In northern Greece, the above version of everything necessarily includes, in addition to tzatziki, other "ointments", such as ketchup and mustard, while in recent years many grills have launched vegan versions with grilled vegetables.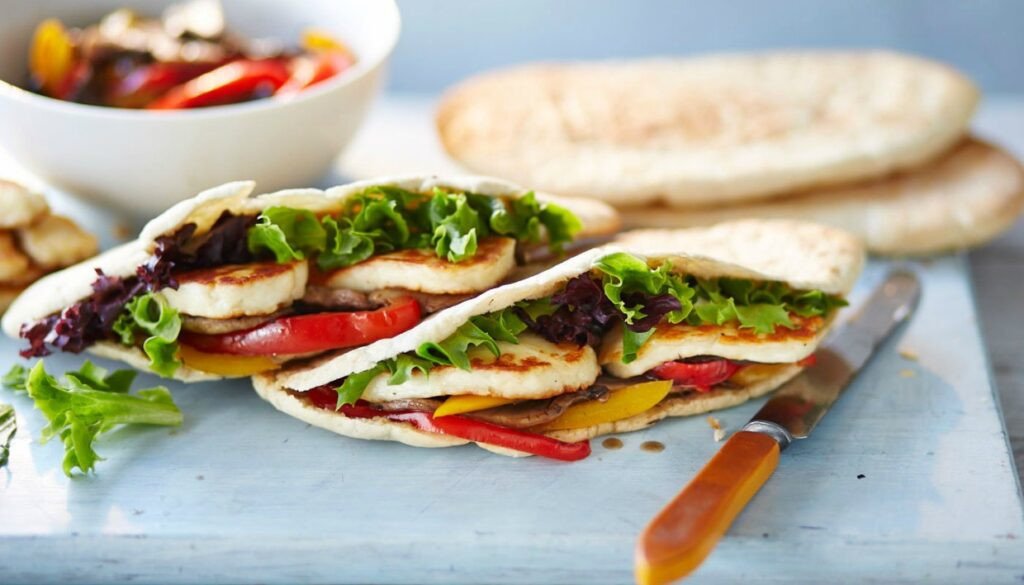 How do Cypriots Serve their Version of Souvlaki
In Cyprus, souvlaki is always served in a Cypriot pita, which with its contents is a complete meal. The Cypriot pita, in addition to pork skewers, includes onion, tomato and parsley, while quite often chopped cabbage.
There are local differences, such as the custom in Larnaca to put tahini in the pie, or the custom in Limassol to put pickles. The souvlaki restaurants in Cyprus also offer chicken souvlaki and sheftalia souvlaki (minced pork with spices wrapped in lamb shanks).
Finally, in modern Cypriot cuisine, we will find souvlaki made of halloumi (semi-hard white cheese, made from a combination of cow's and goat's milk and can be grilled or pan without melting).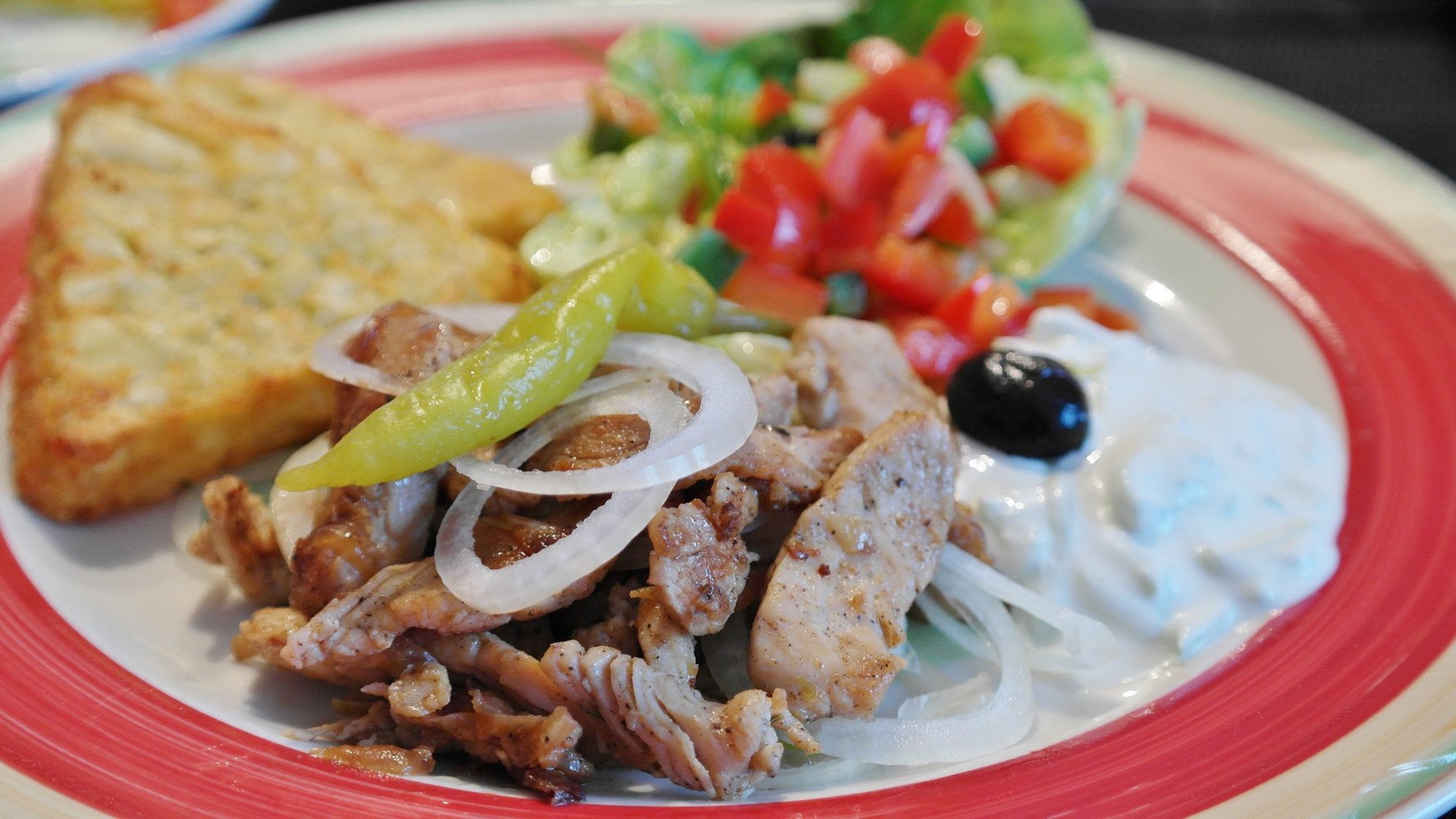 The Origin of Gyros
The origin of the gyros is shrouded in mystery because few sources can shed light on it. Historical accounts point to the fact that the gyros came from the older oltu kebap. Oltu is a small town near Erzurum in Turkey. In its original form, the meat was cooked horizontally and the pieces of meat were cut thicker. However, in its current form, it is probable that it came from Asia Minor and specifically Bursa, a city with a large Greek population.
Many say that the original form of gyros was doner kebab, which is very similar to today, except that Muslims who did not eat pork ate it with lamb or beef. Similar to gyros and doner are Arabic shawarma and Mexican tacos al pastor.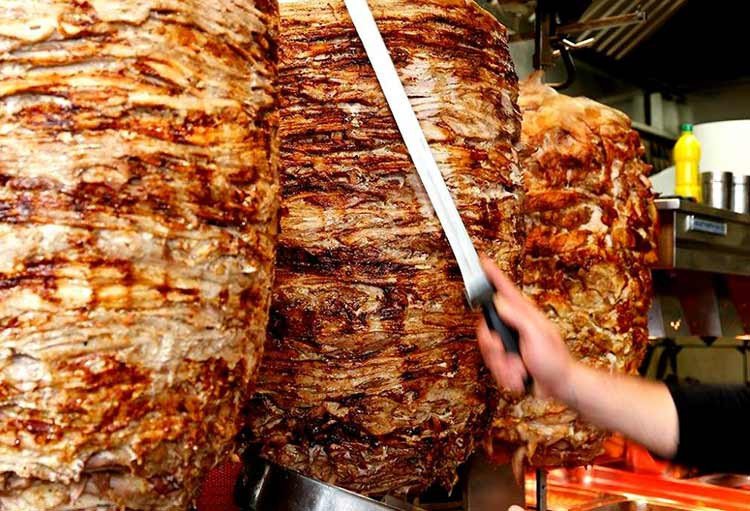 How to Make Gyros
It takes 1-2 hours to make gyros, while previously the meats have been processed with various spices such as salt, garlic, onion. Its big secret is fresh meat, although there are many cases of frozen meat. However, good gyros is that of fresh and clean meat without any preservatives. Cutting the gyros is very important. It is a "ritual". The cutter with the long knife should be experienced as the thickness of the gyros is very important.
Now that we know the history of souvlaki and gyros, we need to know where to eat them! In an upcoming article, we will present the best souvlaki places in Athens! Stay tuned!