Where to find it? If you are a visitor to Athens, and not only, and you are feeling hot, grimy and tired, and looking for a way to cleanse your body and relax your senses, then look no further than the three traditional Hammams or Turkish Baths located in Psirri and Plaka. More than the hammam treatments that various institutes may provide, these Hammams offer an authentic experience of age-old traditions whose origins date back to Roman times, Middle Eastern and African culture, and was popularized during the Ottoman Empire. It is one of the oldest surviving bath traditions in the world. The word itself has Arabic roots, from 'hamma' to heat and 'hammam' denoting bath.
The three venues for the traditional hammam experience follow the established rituals and architecture with the domed marble circular room, sıcaklık, hararet or hot room, with a large heated marble table or navel stone in the center. Customers lie o the stone or in individual niches, or alternatively on marble slabs arranged around a fountain. Basins or faucets line the marble walls all along, where one can fill up small bowls with water to cool oneself while the body adjusts to the heat. As the heat unclogs the pores and helps eliminate toxins, the humidity begins to relax all tensions away. A vigorous exfoliating body scrub, wash and rinsing completes the cleansing process. The client can then choose to continue with alternative hammam and massage rituals, body treatments and facials, or rest and relax in a lounge area where tea and lokum or Turkish delight are offered.
Two of the Hammams are located in neighboring Psirri. As you walk down Ermou street, past Monastiraki square, turn right on Avliton street to find Polis Hammam at number 6-8. Here, you are greeted with a glass of refreshing fruit juice and walked over to a dressing room where you can leave your belongings, and flip flops and pestemal bath towels are provided for you.
Polis Hammam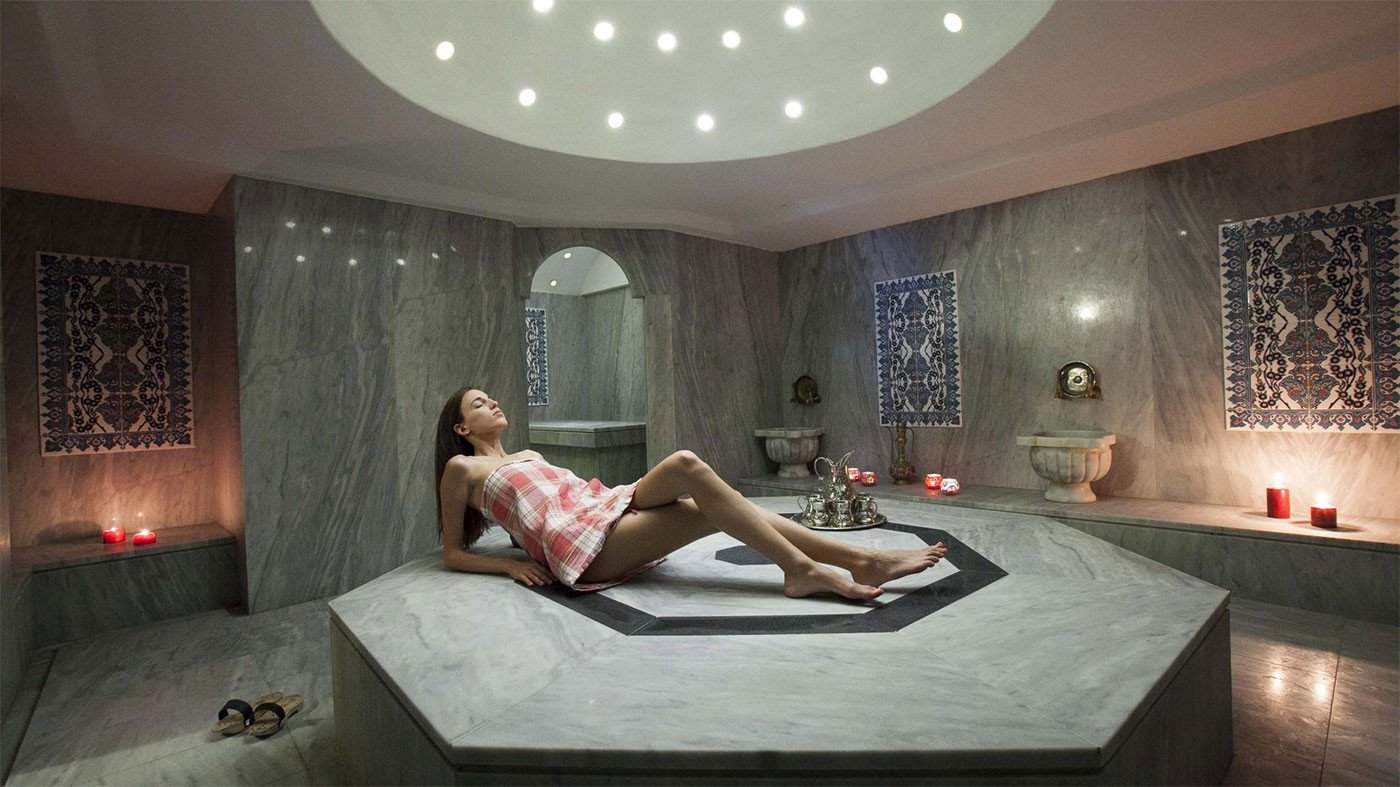 At Polis Hammam, therapists help you choose from a wide array of hammam rituals that include full body exfoliation with the traditional Kesa glove and soap massage with pure olive soap and hair wash, body detoxification mask from Moroccan black soap or the complete exfoliation with Dead Sea sea salts and body mask. Therapeutic massages include deep tissue pressure points, anti-stress massages, or the individualized face, neck, back, waist and leg ones. The Hammam also provides Reflexology, Shiatsu, Thai and Cellulite massage as well as the traditional Chinese medicine treatment known as 'cupping' where cups are applied to the skin, sucking in the skin and muscles, offering relief from chronic pains and ailments. Polis Hammam offers special treatments for bride and groom or groups with catering facilities included. It is open Monday to Friday 12pm-11pm, Saturday and Sunday at 11am-11pm.
Hammam Baths
Hammam Baths is situated a little further down at 1 Melidoni and Ag. Asomaton 17. Here you can choose from a wide menu of treatments, from the hot steam bath, exfoliating scrub and full body massage and hair wash, to the face and body masks with shea butter, honey and clay with hair wash and head massage to follow. There is the special offer for Brides using a combo of various treatments. The Hammam also has an array of Mix and Match services to choose from using olive oil soap, savon noir, Dead Sea salts as well as Dry Room massage which includes the ancient Greek massage using brush, powder, cupping and essential oils. Extra services provided by the establishment are manicure/pedicure, facial and body hair removal and facial cleansing and hydration. Tuesdays are reserved for ladies only. Private functions and special events can be booked with the possibility of catering. Opening hours are Monday-Friday 12:30pm-10pm, Saturday and Sunday, 10am-10pm. More details can be found at www.hammam.gr
Al Hammam Traditional Baths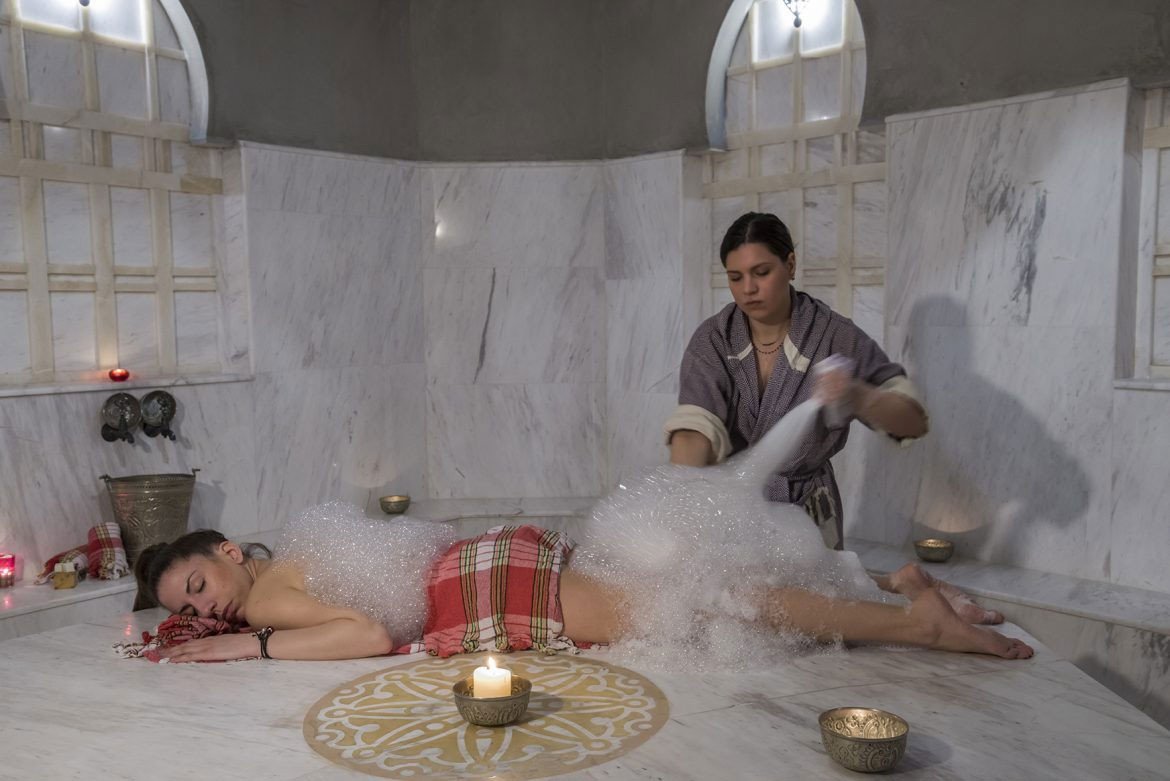 If you are in Plaka, be sure to visit the Al Hammam Traditional Baths on 16 Tripodon street. Among the many hammam rituals provided, there is the exfoliation with kese glove and black or olive oil soap, olive oil soap bubble massage, hair wash, clay body mask, chocolate face mask and a 60 minute chocolate body wrap for skin regeneration. Other treatments include the hammam rituals with body massage included. There are add-ons services that incorporate back or foot massages, facial masks with chocolate or clay, foot bath with salts, head, neck and shoulder massage, and a simultaneous head and foot massage. An anti-cellulite body scrub and massage with cinnamon, caffeine or red pepper is also available. You can book exclusively for a bachelorette or birthday party as well as corporate events. The traditional hammam and dry room for massages and the facial and body treatments can accommodate up to 15 people. Wednesday is devoted exclusively to women. The Hammam Baths are open Monday-Friday 11am-10pm, and Saturday and Sunday from 11am-10pm.
So, next time you are in town, immerse yourself in the age-old tradition and experience of a hammam, to de-stress and invigorate both body and mind.
Cover Photo Credit: Sandra Vallaure