There are many souvlaki restaurants. Honestly a lot. In every neighborhood of Athens. But would it be an exaggeration to tell you that few souvlaki places are really worth it? Nevertheless, it is a reality. The combination of pita bread, meat, vegetables may be simple, but it hides an art behind it. Both in the choice of raw material and baking.
Below you will find 12 places in Athens where the traditional souvlaki is made in the right way! Enjoy!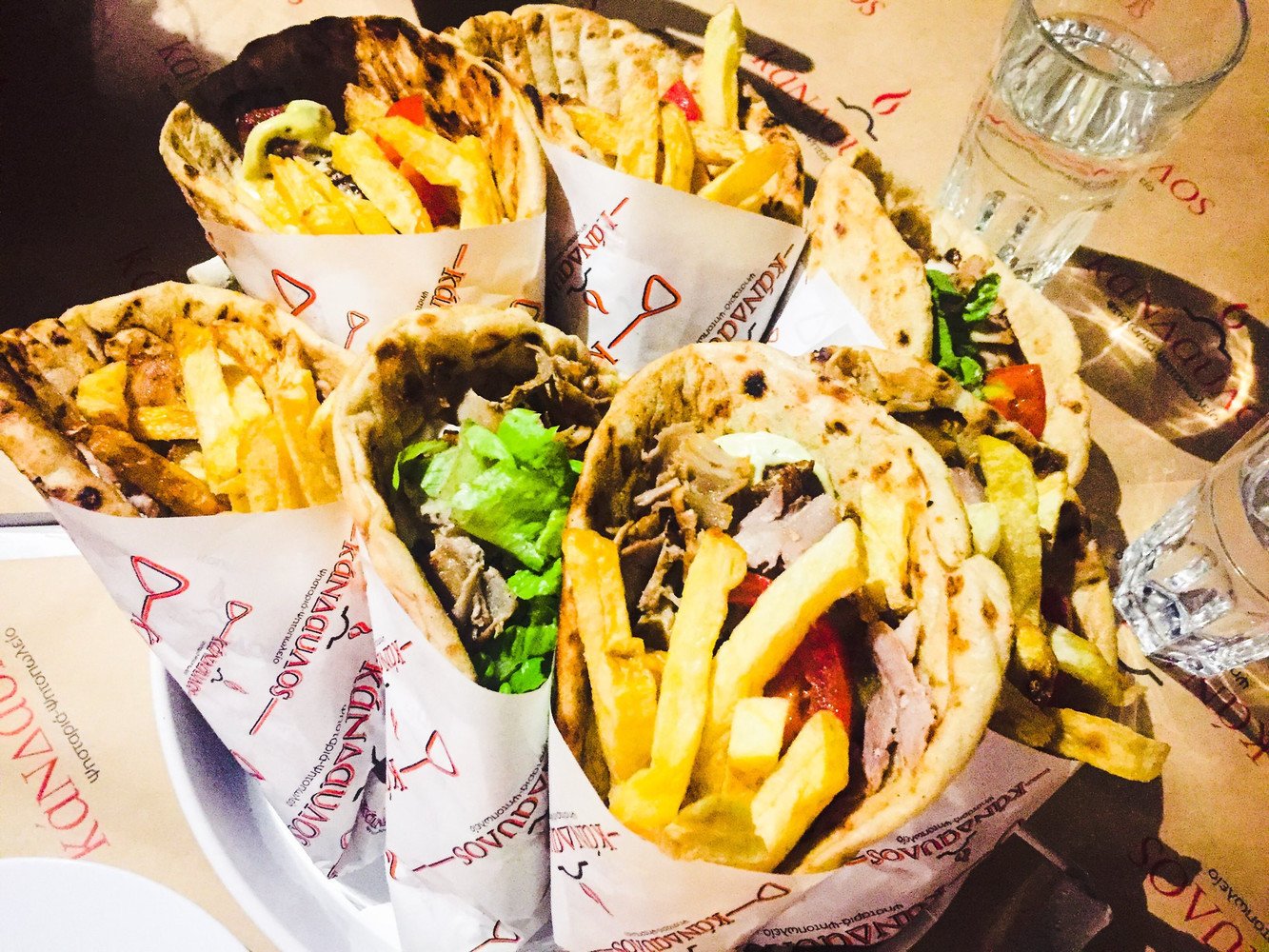 Costas – Syntagma Square
Trademark: "No stress". Costas started making simple and delicious skewers in a cart on the street in 1948 and two years later he opened his shop on Adrianou Street in Plaka. In 2003 it passed into the hands of the grandson and six years later it was transferred to Syntagma, in a small vertical street in Mitropoleos, Pentelis Street. The recipe, however, remains the same: pork that goes into an oily pita with sheep yogurt, hot pepper, tomato, and onion. The potatoes are absent but you will not miss them, while you will definitely ask for a second one. Serves no later than 3.30 p.m. so do not be surprised if you see queues from 11 in the morning.
Lefteris - Politis
It opened in the early 1950s, by the grandfather Stavros, who passed it into the hands of his son Lefteris (hence the name) and ended up in the hands of his grandson Tasos. Always in the same spot, just below Omonia Square, in Satovriandou. At Lefteris, you will eat all and all two things: pita with a burger and handmade, hot (satanic) soutzouki that is overflowing with cumin. The burger is made from plain ground beef without spices and baked in a cast iron. Then it goes into a pita with tomatoes, onions, and paprika. Simple, delicious that takes two - a maximum of three bites.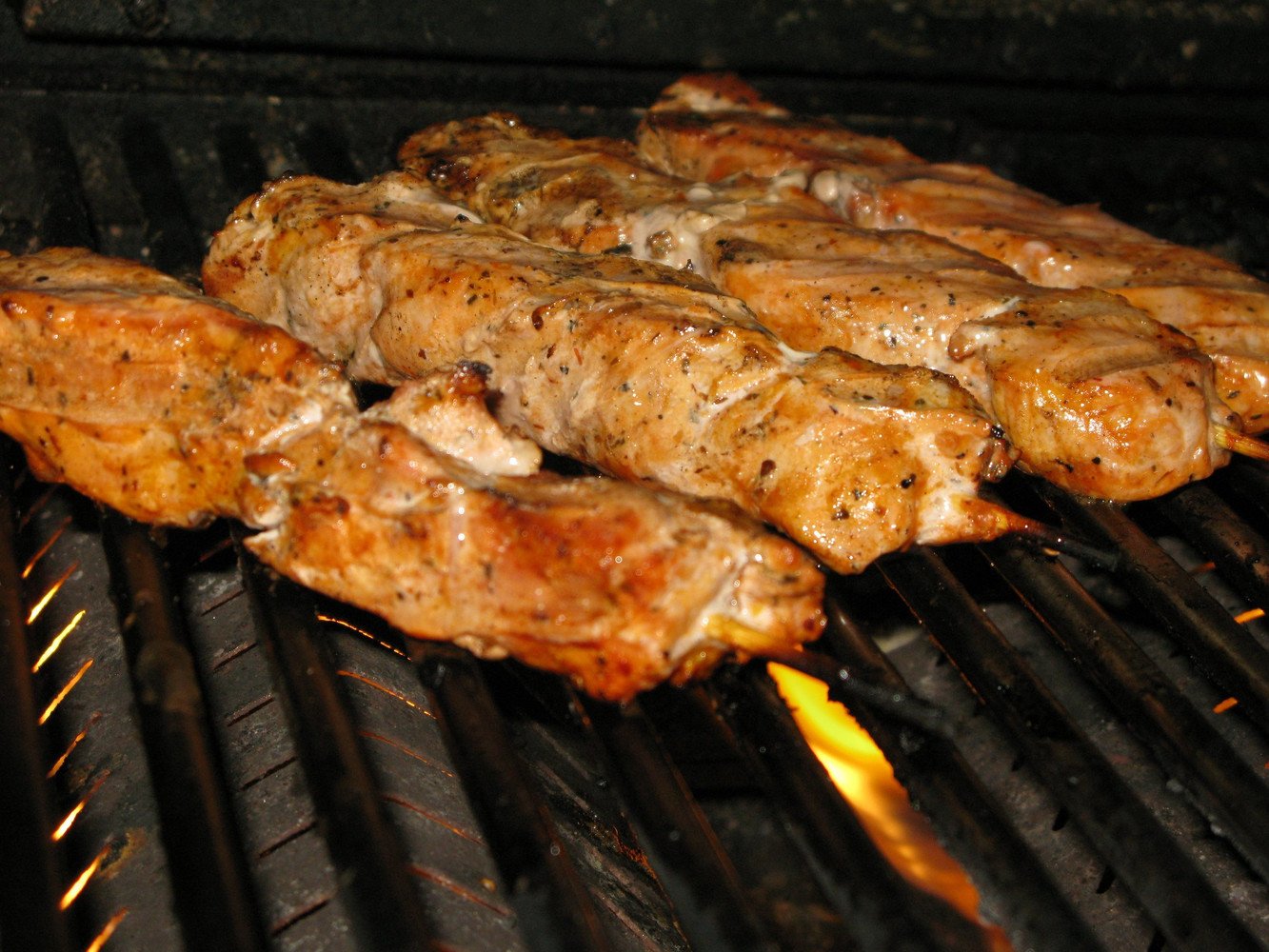 Lefteris - Nea Smyrni
Its history dates back to 1953 when Lefteris baked skewers on the street, on his son's stroller. A little later his souvlaki became famous throughout Athens. Now, in a new hangout on the square of Nea Smyrni, he continues to serve the same recipe: fresh pita of the day, tomatoes, meat, onions with parsley and finally salt and red pepper. The chicken skewer is also put in the same pita together with bacon, tomato and peppers. It is also worth trying the burgers with the unchanged recipe of the founder.
Panerythraikos – Nea Erithraia
It has been operating for over fifty years in the district of Nea Erithraia. To find it, it is good to put its address on the GPS. This old-fashioned souvlaki is from the Maraziotis family. Serves little and well, with the pork straw being the protagonist. No marinades and with fat to be more delicious. It goes in pita bread (properly oiled) together with chopped tomatoes, onion, parsley and paprika. Small, juicy, delicious, you will definitely ask for more. There is of course a portion with its pita, potatoes and salad, but I suggest the wrapper for the nice alternation of flavors it offers, even if it drips.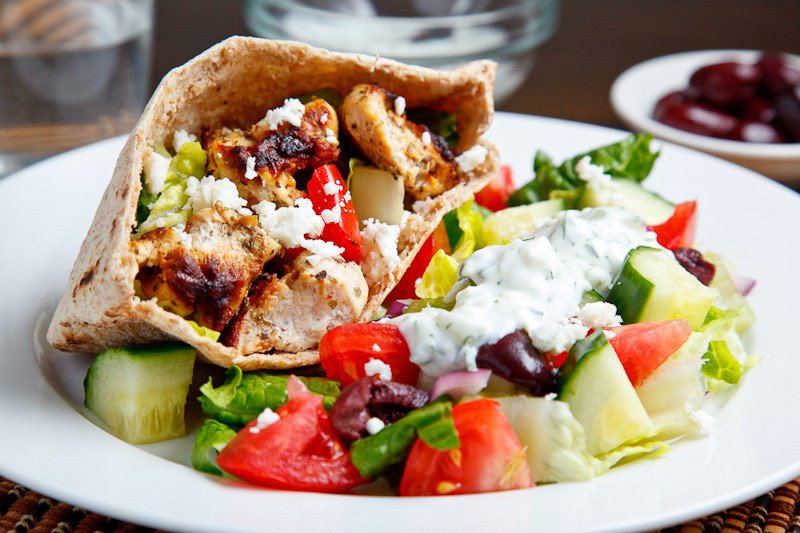 Elliniko
Elliniko has been located in the same place, on Iasonidou Street, since 1990 and nothing has changed in its decoration. We are talking about a cult restaurant that has been left behind in time, by its pure choice. His specialty, a wrapped burger goes into a pita, very well oiled, along with tomatoes, onions and optionally potatoes and tzatziki. We would advise you to avoid the last two because that way you will understand how delicious his burger is and why people from the center run to Elliniko just for that.
Elvis
The two friends, Spyros Athanassiou and Vangelis Petridis, when they turned the butcher shop of Kerameikos Square into a souvlaki restaurant, no one could have imagined the 'noise' they would make. Within a short time, queues from people were a daily occurrence. So, in 2016 they opened a second one in the heart of Pagrati. Their pork souvlaki is well cooked and very tasty and is served with the potatoes next to it. The same goes for the juicy chicken, but also the delicious kebab that they make themselves. Finally, you have to choose between three pita bread: whole, corn or wheat.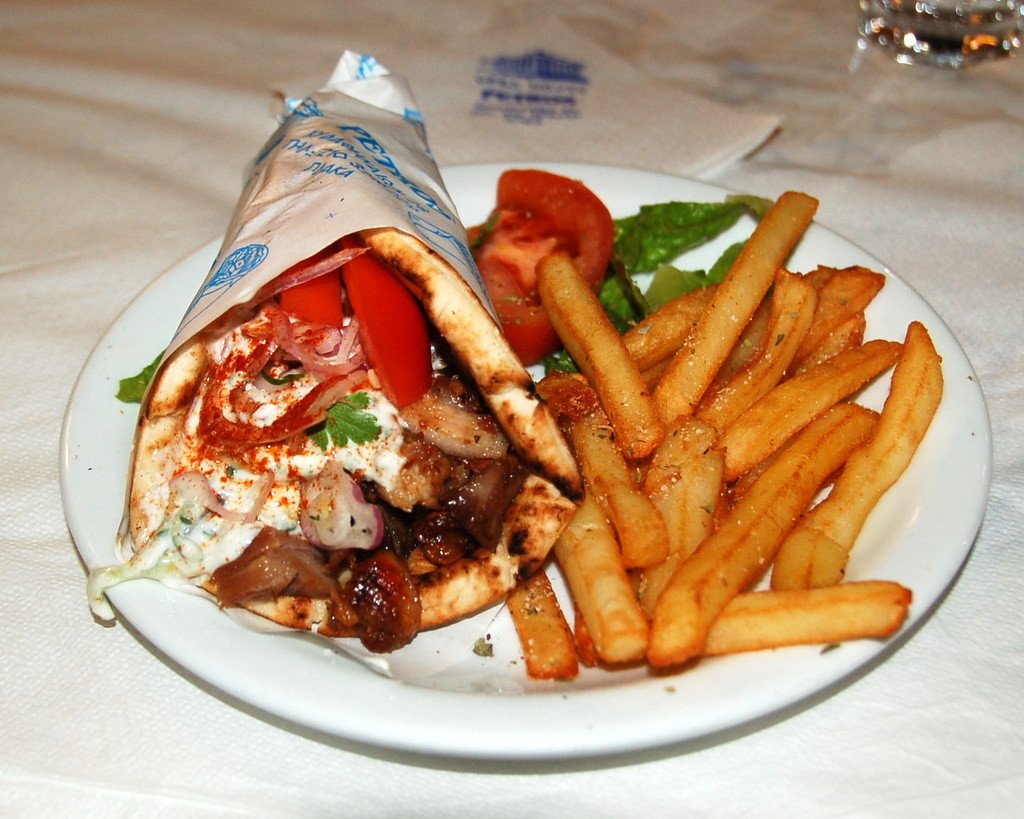 Eddy
It has now passed into the hands of the third generation, since 1946. What you will find here: pork in a pita with parsley, tomato, and onion. The juicy chicken and beef burger are served with the same "filling". For the more adventurous - like us - there is the classic soutzouki with feta, which is wrapped in slices of cured meat before it enters the pita bread. Recently, a second store was opened in Chaidari.
Rosides - Kallithea
Lost in the alleys of Kallithea, its inscription reads "Souvlaki-Piroski", but everyone knows it as Rosides that translates to "Russian Women", although its owner, the sweetest lady Anna, comes from Pontos. It opened in 1990 and since then nothing has changed, or rather almost nothing, because in the beginning, they did not even have a telephone, but now they do. The souvlaki here is pork (only), soft, lightly marinated, wrapped in a juicy pita with tomato, onion and a mildly hot red sauce - wonderful. You order them two at a time because they are small and very tasty. As for the french fries, they do not exist, because they don't have to.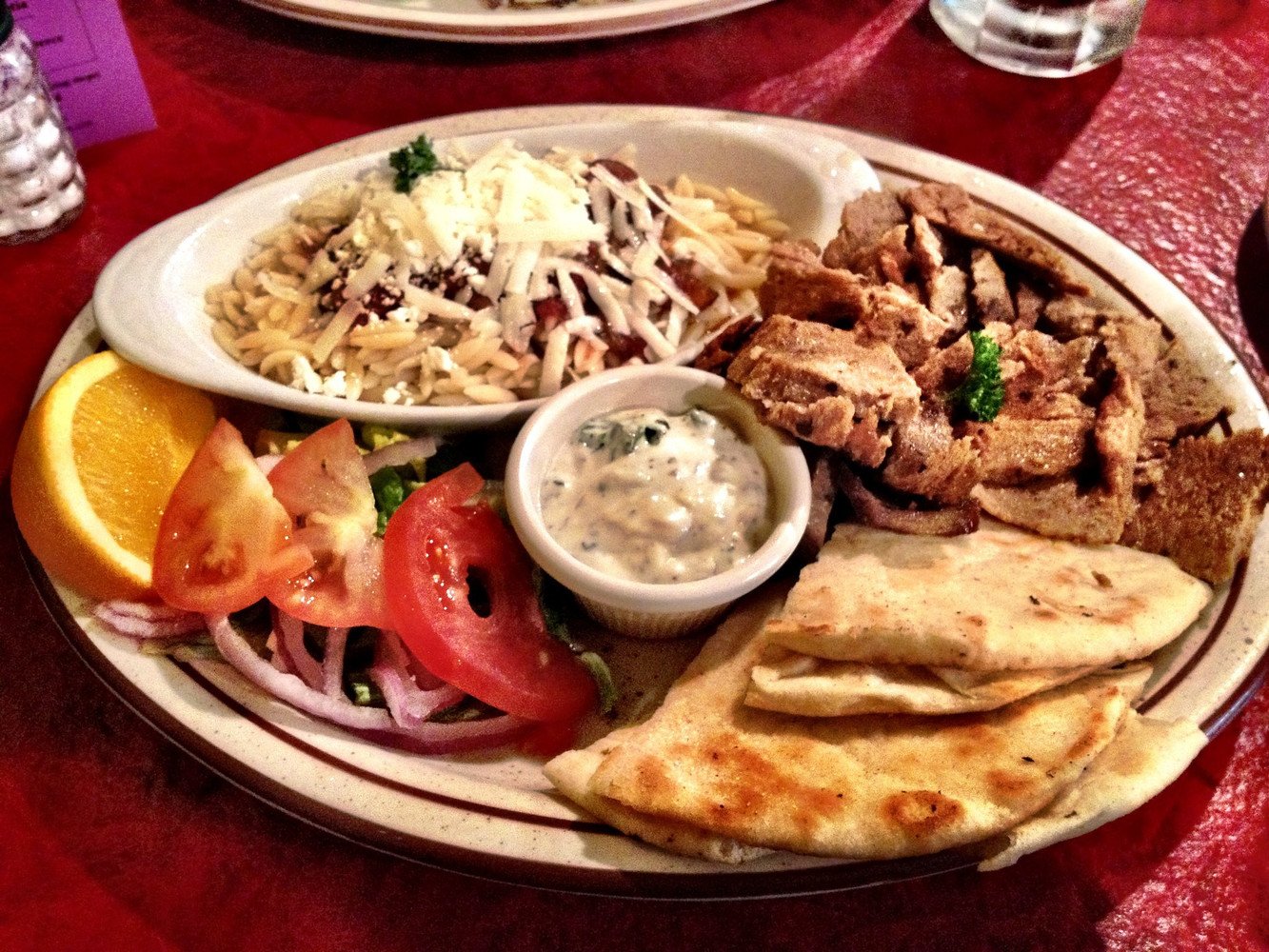 Achilles – Neos Kosmos
It is located 30 years ago in a small vertical street Vouliagmeni Avenue, in Neos Kosmos. It opens from 16:00, operates only from Monday to Friday and has no delivery. In other words, we are talking about a very different souvlaki restaurant than usual. In fact, the famous gyros -pork of course- is made daily by themselves, they wrap it tightly in a crunchy pita and fill it with tomato, onion and optionally tzatziki. No reason for potatoes.
Volvi
It opened in the second lockdown in 2020, at the entrance of the central meat market of Athens. Volvi has all two things: pork skewers and meatballs - commonly known as soutzoukakia. They make everything themselves every day, from meat procured from the nearby butchers in Varvakeio. The skewer is very tasty and you can ask for it either in a pita (get at least three of them, because they are small and addictive) or in a dish including tomato, onion, boukovo and mustard. And the tiny soutzoukakia are satanic. They are served in the same way and eaten with delight. It closes when the market closes, i.e., after 18:00.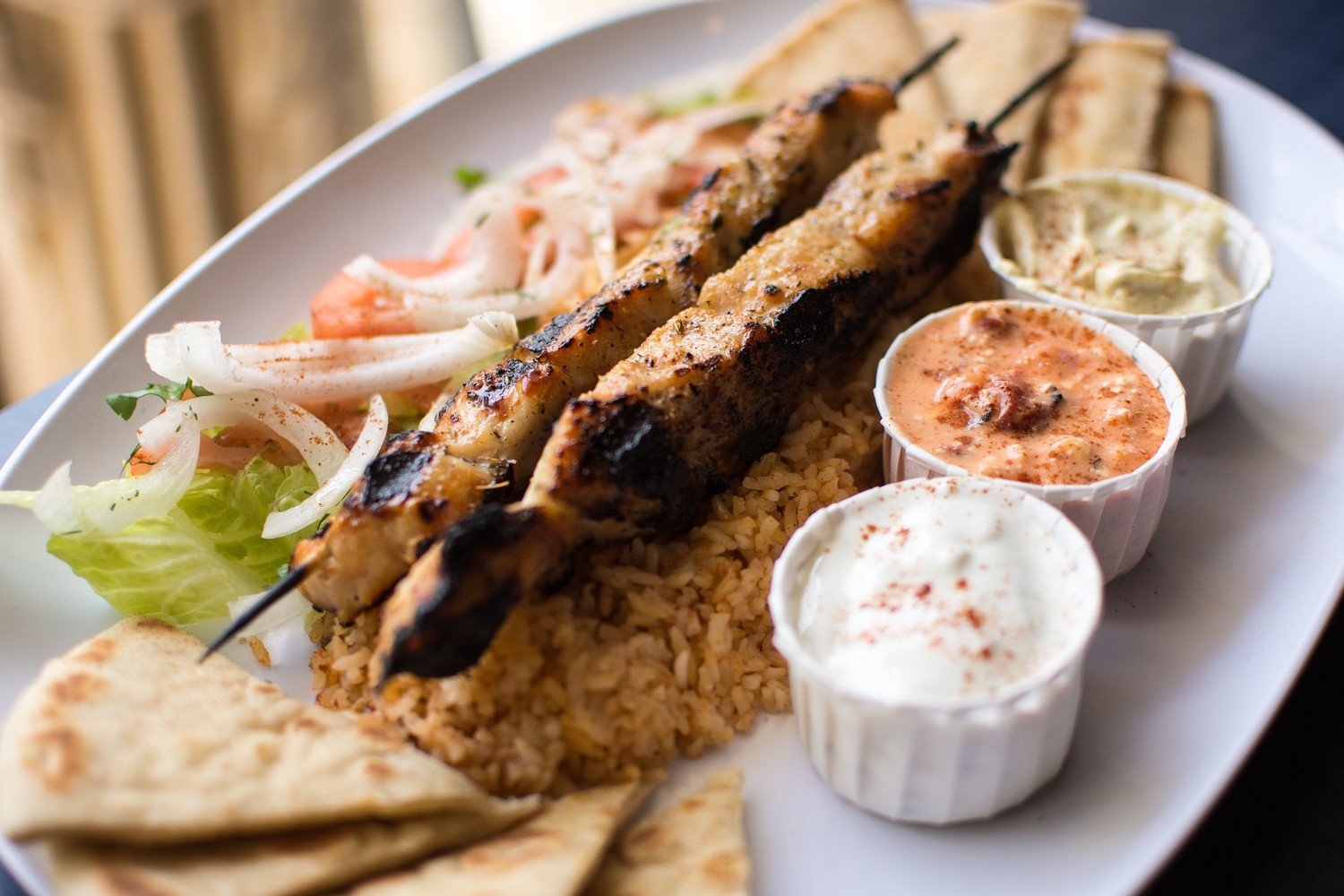 Kalyvas – Koukaki
It is located on a corner on the busy pedestrian street of Olympiou, in Koukaki. Father George and mother Ioanna were the ones who laid the foundations of Kalyvas steakhouse in 1993. It has now passed into the hands of three sons: Efthymi, Kosta and Dimitris. Under normal circumstances, their tables, inside and out, become breathtaking. In addition to the popular chicken and pork gyros, you will find pork skewer, chicken and beef as well as frigadeli, kokoretsi and kontosouvli - all wrapped in a pita. His juicy burgers need a special mention, which are still kneaded by Mrs. Ioanna.
Best - Petralona
One of the most famous souvlaki restaurants in the city, which started its history in 1996. Its delivery machines not only cover the surrounding area of ​​Petralona, ​​but also deliver the juicy chicken skewers and their exuberant portions beyond the borders of Petralona. The pork gyros is made daily and that of the chicken is lightly marinated. The pork skewer is very tasty while the chicken is very juicy. The portions, as we told you, are exuberant and you can choose either the classic one with the pieces on top of the pita or the covered one with the gyros between two pita bread.